Sanskrit Offered for First Time at Providence College through Dr. Lawless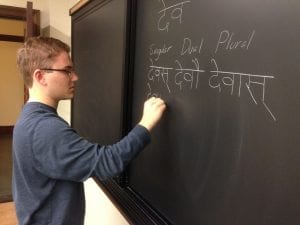 Dr. John Lawless is offering Sanskrit instruction, a first for Providence College. As seen in this image, student Sean Tobin practices Sanskrit declensions. Sanskrit is the language of ancient India. It is still widely studied today and is key to a vast array of philosophical and literary texts.
If you are interested in instruction in Sanskrit, please contact Dr. Lawless.