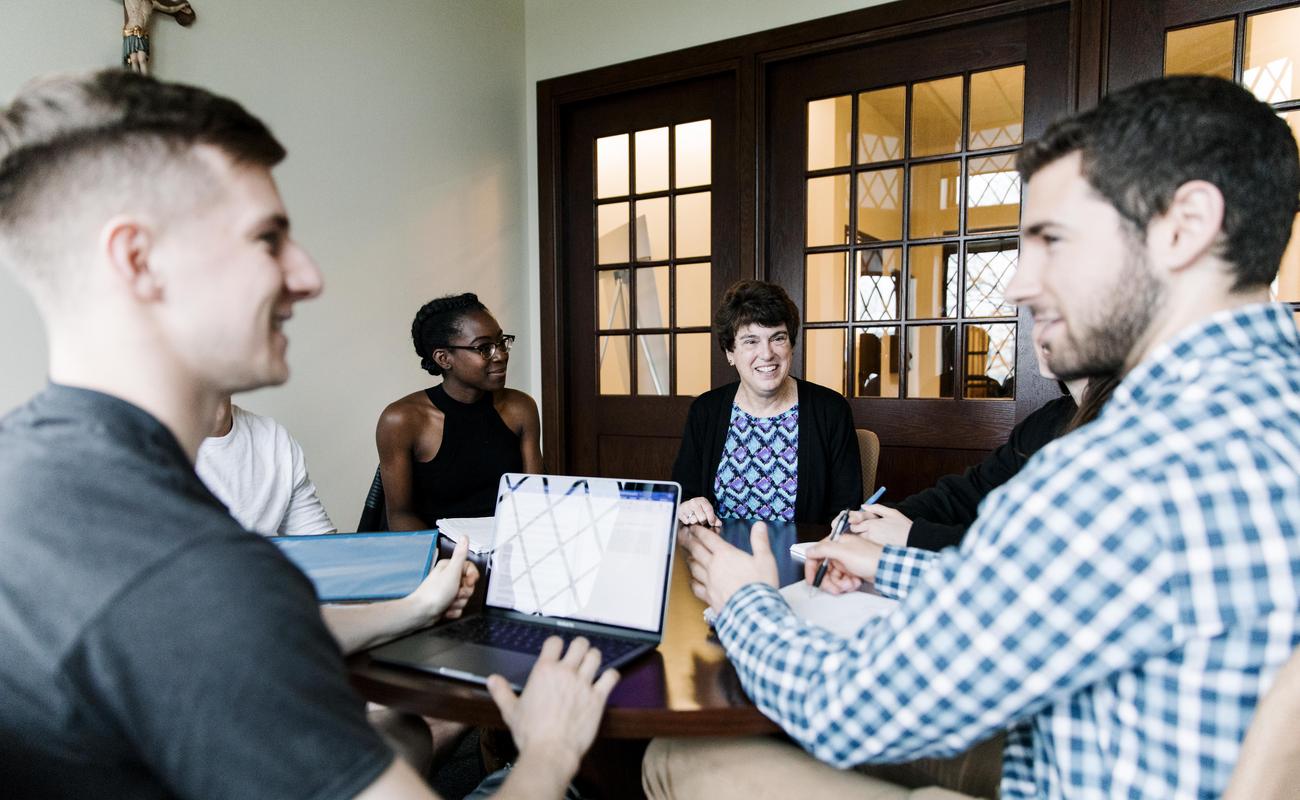 History and Classics
Passionate faculty. Incredible students.
These are essential ingredients to the best history and classics departments — like ours. Our faculty members know their way around the world — from the Americas and Europe to Africa, Asia, and the Middle East. They're also authorities on the issues — from the Renaissance and Ronald Reagan, slavery and samurais, women and war​, and much more.
Our students, inside the classroom and beyond it, are captivated by the events and cultures​​​ — from Russia and the Reformation to Native Americans and nationalism — that have shaped our world. They have gone on to become educators and lawyers, CEOs and community organizers, diplomats and peacemakers.
Away from the classroom, internships and our history club bring lessons to life — as does our annual Maymester course, which has taken students to Germany, Poland, Hungary, England, Ireland, and Japan in the past three years. So, whether you want to see the world from your classroom seat or travel it by the se​​at of ​your pants, we want you to take the journey with us.
Recent Faculty Accomplishments
Dr. Osama Siddiqui received a competitive and prestigious National Endowment for the Humanities (NEH) grant to complete work on his book A Science of Society: Economic Thought in Colonial India
Dr. Robin Greene was awarded the 2020-21 Joseph R. Accinno Faculty Teaching Award.
Dr. Paul O'Malley was nominated at the 2020 Providence St. Patrick's Day Parade Community Honoree.
Dr. Raymond Sickinger was awarded the 2021 Service to Education Award by the Providence College National Alumni Association.
Dr. Sharon Murphy recently published an article entitled "The Financialization of Slavery by the First and Second Banks of the United States" in The Journal of Southern History 87/3 (August 2021).
Dr. Margaret Manchester recently published two articles; "'Charlie Kersten's War': A Catholic Crusader Goes to Congress" in Cold War History (21) (2021), and "The Corporate Dimension of the Cold War in Hungary: ITT and the Vogeler/Sanders Case Reconsidered." Journal of Cold War History.(23) (2021). d.
Check out our Faculty page to learn more about what we've been doing.
What's New?
We are pleased to announce Dr. Sharon Murphy, professor of history, as the new department chair for the History and Classics Department.
Dr. Alex Orquiza recently published his book Taste of Control: Food and the Filipino Colonial Mentality under American Rule. The books tells what happened when American colonizers began to influence what Filipinos ate, how they cooked, and how they perceived their national cuisine, discussing how changing the food of the Philippines was part of a war on culture led by Americans as they attempted to shape the islands into a reflection of their home country.
Dr. Edward E. Andrews was offered a book contract for his second book, titled Newport Gardner's Anthem: Composing Slavery and Freedom in Early America.
In December 2020, Fr. John Vidmar published his book, Bury Me in the Sunshine: The Yellow Fever Epidemics of Memphis (Providence: Cluny Media, 2020).