Alumni
Do you have an alumni story you'd like to share? Please share your story with us and submit it here.
---
Andrew Isidoro'10 BA,'12 MA, Reading Room Assistant, John J. Burns Library, Boston College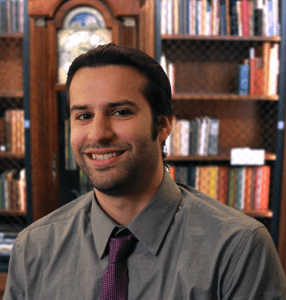 Throughout high school and my undergrad years, I always wanted to be a history teacher. History always fascinated me and getting the chance to share my passion with students every day seemed like an ideal career. While working on degrees in American History and Medieval History at PC, I got a graduate assistant position in the Archives and Special Collections Department in the Phillips Memorial Library. From day one I was fascinated by the collections held by the library and the work we were doing to make these collections usable and findable by faculty, staff, and students. From rare books that were hundreds of years old, to recent publications by campus groups, the Archives had a wide array of materials that could be used by scholars and independent researchers alike.
Once I completed my degrees, I knew that the library world was the place for me. I have been working at the John J. Burns Library of Rare Books and Special Collections at Boston College for over five years now, and I am constantly using the skills I obtained from my history degrees as well as my GA position in the library. From curating exhibits and hosting classes, to helping researchers find important library holdings, each day is a chance to use the critical thinking and research skills I gained as a student at PC. I've been extremely fortunate to find a career that I love, and owe much of that to my time in the History Department at Providence College.
---