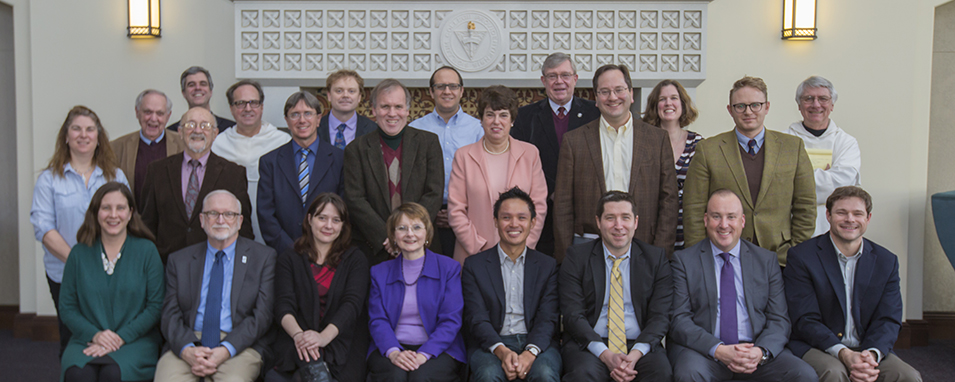 Faculty
The places — Great Britain, Russia, Germany, France, Italy, Vietnam, Greece, Japan, Ireland, the Middle East, and the United States, among others.
The issues — British imperialism, U.S. labor movements, church history, slavery, the American Revolution, the Renaissance, the military, the Arab-Israeli conflict, just to name a few.
As you can see, our faculty members are scholars with deep knowledge of the issues and regions that have shaped history. We invite you to browse their profiles to the left of the page.
Recent Faculty Accomplishments
Dr. Sharon Murphy is becoming a bit of a celebrity. An excerpt from her recent book, Other People's Money: How Banking Worked in the Early American Republic (Johns Hopkins, 2017) was featured on Time Magazine's website. Murphy was also featured in an interview on "Backstory," which discussed the history of American insurance and gambling (she comes in at the 28-minute mark). She also appeared on TLC's popular show, "Who Do You Think You Are?"! Finally, Murphy was awarded a Summer Stipend from The National Endowment for the Humanities to continue her work on banking and slavery.
Dr. Alex Orquiza ​served as a consultant on "A Filipino American Story."​ He also was interviewed for an NPR story on the Filipino practice of kamayan, or the traditional practice of eating with hands instead of utensils.
Dr. Vefa Erginbas recently published an article entitled "Problematizing Ottoman Sunnism: Appropriation of Islamic History and Ahl-al-Baytism in the Ottoman Empire" in The Journal of Economic and Social History of the Orient 60/5 (August 2017). He has also been busy presenting his work at international conferences in Bulgaria, Budapest, and Oxford.
Congrats to Dr. Colin Jaundrill!  Jaundrill's Samurai to Soldier: Remaking Military Service in Nineteenth-Century Japan was selected as one of the "Best Books of 2017" by Foreign Affairs.  Well done!
Dr. Robin Greene has also been extraordinarily busy. Her article, "Recollecting Histories: Herodotus and Thucydides in Callimachus' Aetia," is coming out this fall in Phoenix, and she also has "Callimachus' Taxonomy of Men" coming out next year in Mnemosyne, both of which are international classics journals. Perhaps most importantly, her new translation and commentary on Paradoxographus Florentinus will be coming out next year with Brill, a top international press.
Dr. Jeffrey Johnson recently published his new book, The 1916 Preparedness Day Bombing: Anarchists and Terrorism in Progressive Era America, with Routledge. This comes on the heels of a collection edited for ABC-CLIO called Reforming America: A Thematic Encyclopedia and Document Collection of the Progressive Era. Johnson was also featured in Time Magazine, in an article on the 1916 San Francisco Bombing, and he recently had his lecture on the bombing featured on C-SPAN itself.
Dr. Connie Rousseau's article, "Harbingers of the Future: Marriage Cases during the Pontificate of Innocent III and Lateran IV," was recently published by one of the oldest journals of law and legal history in the world, Zeitschrift der Savigny-Stiftung fur Rechtsgeschichte, Kanonische Abteilung.  Congrats on this major accomplishment!
Congratulations to Dr. Steve Smith, who published his first book: An Empire of Print: The New York Publishing Trade in the Early American Republic, via the Penn State Series in the History of the Book.
Congratulations to Dr. Adrian Weimer, who is currently on two long-term research fellowships to support her project, Godly Petitions: Puritanism and the Crisis of the Restoration in America. The fellowships are sponsored by the National Endowment for the Humanities in cooperation with the Massachusetts Historical Society and the American Antiquarian Society.