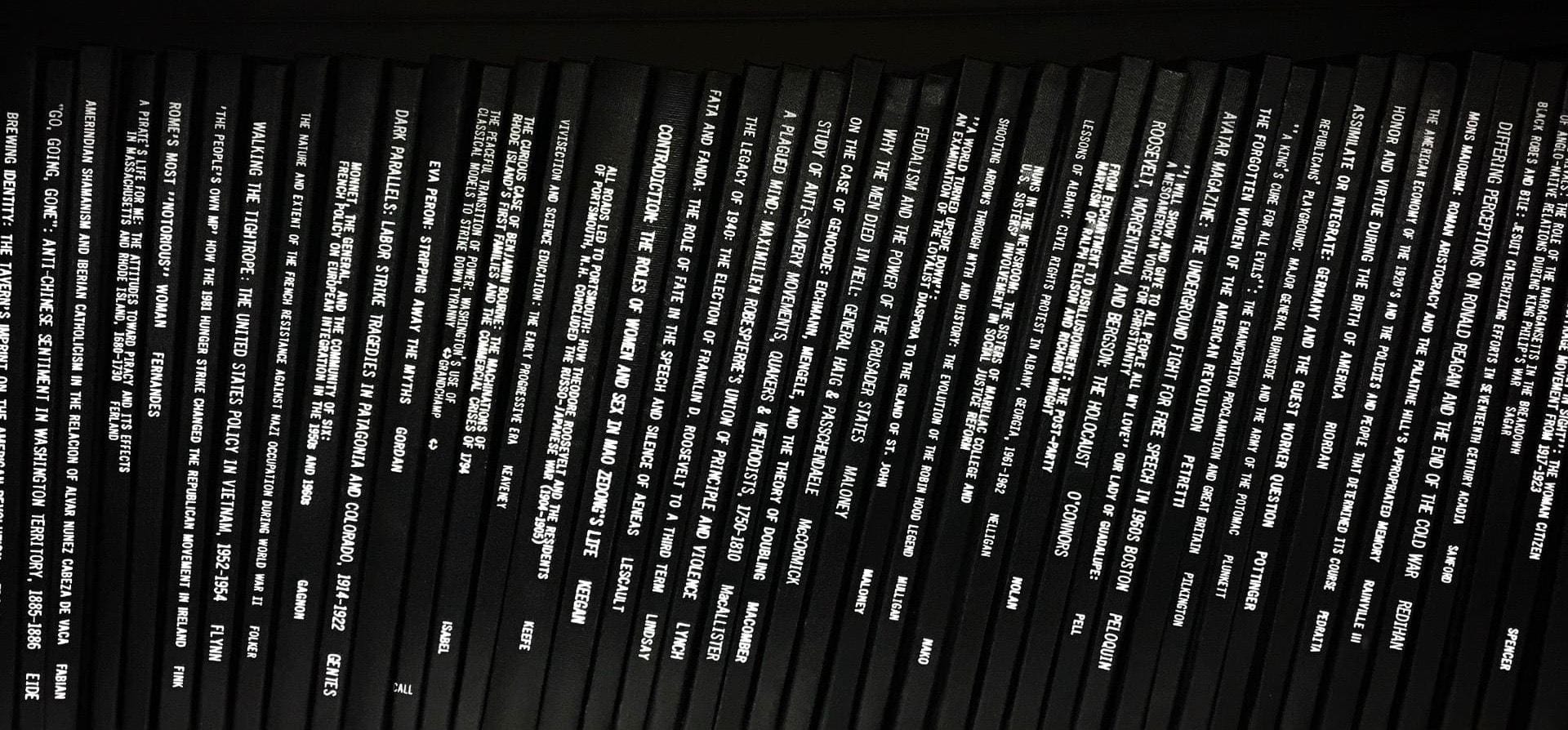 Senior Thesis
The Department of History and Classics offers our students a wonderful opportunity to research and write an Honors Thesis in History. While this undertaking is quite possibly the most difficult challenge our students face during their four years in our rigorous program, it is often the most intellectually rewarding and satisfying experience for our students
and devoted and talented faculty. Junior students with a cumulative GPA of 3.55 in their spring semester are eligible to propose a thesis to a history faculty member, who then works with the student one-on-one to develop and execute their research plan.
During the fall semester of their senior year, students work closely with their faculty mentors, meeting regularly to discuss research strategies and the writing process. Students receive much needed critical feedback from their thesis director, helping them turn their efforts into a well-argued, well-written capstone project. The final product is a (minimum) 45-50 page original research paper, bound copies of which are preserved in the history department and the library (as well as a bound copy for the student).
Senior thesis students also make a formal oral presentation of their work at the department's annual Making History Conference. Doing research for and writing a thesis allows our students the opportunity to work as independent historians, developing a project and then doing the archival work entirely on their own.
Writing a senior thesis is a great way for students to explore interests they cultivated while taking courses in the major, or to expand their knowledge beyond our course offerings. Developing and executing an independent research agenda is an invaluable experience not only for students preparing for graduate school in history or law school, but for any professional endeavor the student ultimately pursues.
Our thesis students have gone on to graduate study in history at top universities including Oxford, Brown, and Notre Dame, and have pursued successful careers in fields as diverse as business, law, education, and health care.
Check out Providence College's
Digital Commons
page and download some of our most recent senior theses.